HOW-TO
How To Buy Second Hand Shoes Online
10th April 2020
WORDS BY FLORENCE TROTT
From the thrill of rare vintage finds, to hunting down sold-out styles, our guide to shopping pre-loved shoes online.
If you're lusting after Bottega Veneta's sold-out mules, or dreaming of apair of #oldceline pumps, it's likely you've considered shopping pre-loved shoes online. Whilst there are risks associated with digital designer resale, the benefits outweigh them – it just involves a little more research and know-how. Runway styles and iconic pieces often retain value – they're not Birkins, but a pair of vintage Gucci loafers are always in-demand. Women who choose classic and vintage aren't just following trends, but carefully selecting pieces (old and new) that reflect their style. Shopping pre-loved contributes to the circular economy – it's a smart and sustainable fashion investment. Instead of languishing in the back of wardrobes, shoes get a new lease of life in someone else's rotation. Fashion savvy women have been using online resale sites for years, but shopping second hand comes with its own unique list of considerations. Read on for our guide to shopping pre-loved shoes online.
WHERE TO START
If you're new to the game, begin by looking for specific shoes, and if what you're looking for isn't there, check back regularly as sites are constantly updated with new styles. Prepare to spend some time searching, but it's worth it when you find the perfect pair. Iconic designer shoes, whether vintage or a modern equivalent, are always a good investment. Shoes by fashion heavyweights from Chanel to Fendi are forever in style – their new-season pieces always reference the house's design DNA, and their vintage shoes just get better with age.
CHOOSE YOUR PLATFORM
Choose well-respected resale sites that guarantee the authenticity of designer pieces. We're committed fans of Vestiaire Collective, which has been operating for over a decade. HEWI London, Designer Exchange, Vide Dressing, Rewind Vintage and US based The RealReal are also firmly on our radar for everything from nearly-new to vintage. If you're looking for something very special, consider hiring a personal shopper who will track down rare shoes through their network of contacts and suppliers. Alternatively, if you enjoy the hunt (some might argue it's the best part) set up key search word alerts and keep an eye on sites like eBay and 1stdibs.
CONDITION
Whilst the condition of brand-new purchases is guaranteed, second-hand pieces almost always come with some signs of wear-and-tear. You need to be ready to gauge their condition from an online image and description. Sites often rate a shoe's condition, and will include notes detailing imperfections. If possible, message the seller to ask any questions you have before buying. Often, defects are minor, and won't detract from the beauty of a pair of vintage Chanel ballet flats. If anything, they add to their story.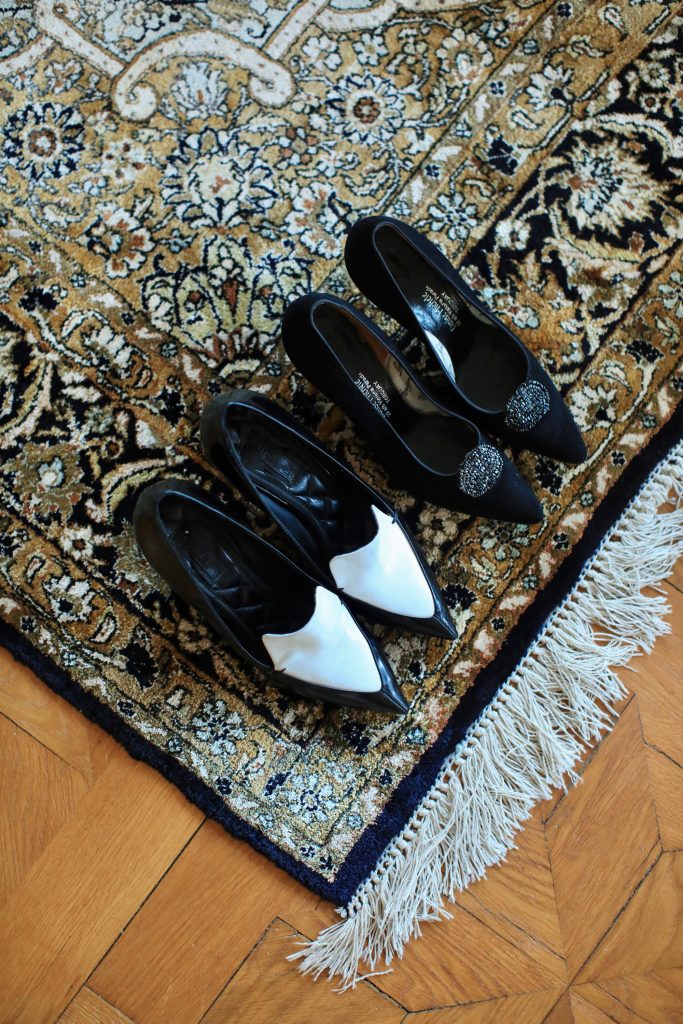 SIZE & FIT
As returns for pre-loved shoes are more complicated than the average, it's worth checking thoroughly that you've got the sizing right. Use shoe size conversion charts and note their measurements to make sure they'll fit. Sizing of vintage shoes is often smaller, so ensure you check their dimensions and compare with your own very carefully.
RETURNS
Always study the returns policies of pre-loved sites. It's uncommon for them to offer standard returns, as they operate on a commission basis as platforms for individuals and professionals to sell their stock. Often, the policy will depend on whether the individual seller accepts returns, or whether the item is eligible. Be prepared to put unwanted shoes back on sale, which is usually pretty straightforward and often free of charge or at a discounted commission rate.
ON ARRIVAL
As soon as your shoes arrive, check that the description is accurate, and that there are no additional marks and scuffs to those described. If you have any, flag your concerns with the platform or seller as soon as possible, so you can begin working towards a resolution. If you follow our guide they should fit perfectly, and you'll fall head over heels for your 'new' Gucci Mary Janes. 
SHOP OUR HAND PICKED SECOND HAND STYLES


This article contains commercial, affiliate links.