SHOPPING
Modern Day Princess Shoes
4th April 2020
WORDS BY FLORENCE TROTT | Photography by ANNA SANDUL
Life isn't a fairytale, but these satin pumps and crystal mules are magic.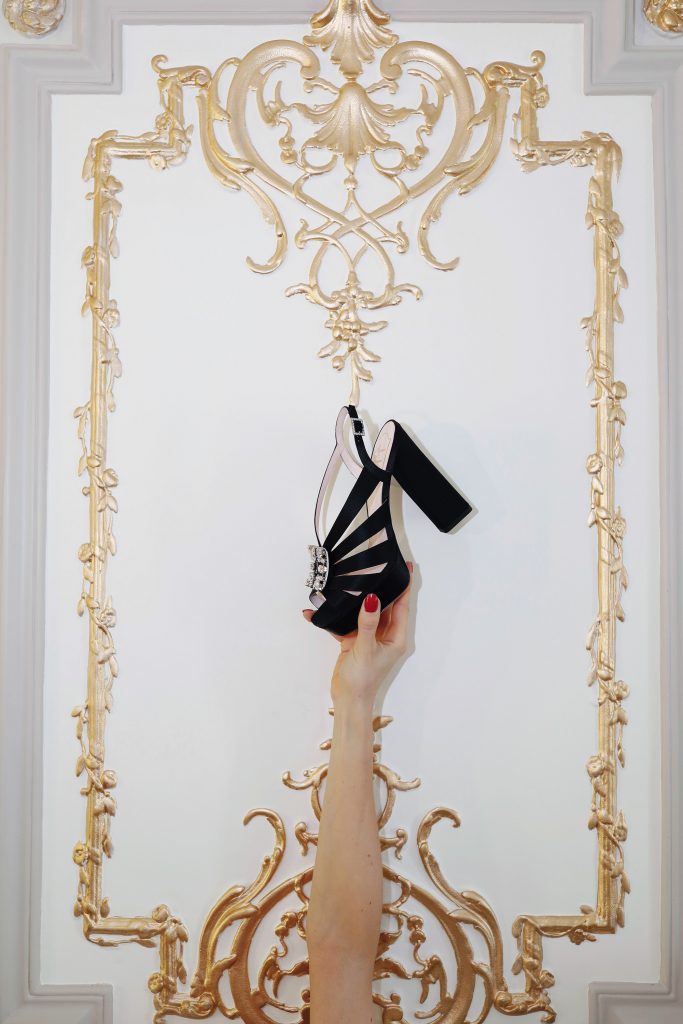 Even the most radical women we know have, at some point in their lives, harboured fantasies of being a princess. Blame it on the Disney movies that were rammed down our throats from a young age, or the lack of alternatives to Princess Barbie on the toy shop shelves. Whatever your stance on the stereotypical representation of women in fairytales, the magic and romance of beautiful 'princess' shoes is undeniable. It's no coincidence that so many of our most-loved and often-told stories contain magical shoes that play a central role in the direction of a heroine's life – Cinderella's glass slippers famously catapult her into the glittering world of aristocratic suitors and candle-lit ballrooms. Whilst a pair of Manolos aren't guaranteed to deliver the same, they are transformative – dressing up in some black satin Hangisis can transform you from a housebound remote-worker into a glamorous It-girl. Think of us as the fairy godmothers of footwear and dress for the life you dream of, not the one you're living (confined to the house, probably fed up), with our guide to the season's most spell-binding, princess-style shoes.
Luckily, you don't have to be a princess, or ascribe to the wildly romantic (and inaccurate) notions of femininity associated with them, to fall head over heels in love with the decadence and beauty of what we call a 'princess shoe'. Their resemblance to the slippers worn by Sleeping Beauty and her sisters is primarily aesthetic – royal heritage and damsel-in-distress status are not pre-requisites for indulging in satin, gilt and diamante. A love of fabulous, fantastical shoes is. These are shoes that defy reality. Who cares if their shiny satin and glittering jewels are utterly impractical? This is about fantasy.
SHOP CRYSTAL SHOES


Whilst you don't have to be royalty to wear Amina Muaddi's Begum pumps, if you wanted to dance around your house in them pretending to be a duchess, we wouldn't blame you. We all need some escapism right now – whether that's getting lost in a book (fairytale or not), or binge watching Ru Paul's queens ruling the runway. We turn to stories in times of need, and although it can feel like happy endings are in short supply right now, we're writing our own. One of our preferred methods is to get all dressed up, even if we have no place to go. Billowing chiffon and Jimmy Choos in the garden, anyone? What better time to wear in those party pumps for that event you'll attend… sometime later.
SHOP PRINCESS PASTELS


The typical requirements for a shoe to qualify as a 'princess shoe' is a satin upper and some sort of crystal embellishment, however, it's rumoured that modern day princesses will accept Malone Soulier's gilded mules and feathers as a suitable alternative to diamonds. Unlike the princesses of folktales, we can express our femininity in whichever way we choose – black leather moto boots one day, crystal-encrusted Nicholas Kirkwoods the next. It's about choice – and one of those choices can be to indulge in the fantasy of a pair of royal blue Manolo Blahnik's. Jewel tones and satin are are the starting point for most princess shoes. Spool heels, crystal brooches, pearls and embellishments complete the regal line-up.

SHOP FEATHER HEELS


The speed with which Amina Muaddi's coveted pumps sell out proves that there are many women out their with an appetite for unapologetically feminine shoes. For those that aren't quick enough at the online checkout, they are the stuff of myth and legend. Aquazurra's PVC Temptation 105s with teardrop crystals put a subversive spin on the archetypal glass slipper, and Roger Vivier's breathtakingly beautiful Diamond shoes are enchanting. But just as we don't need prince charming to resuscitate us from an afternoon nap with an unsolicited kiss (there's such a thing as consent, thank you), we don't need a pair of 1.5K shoes to make us feel fabulous. Right now what we need is escapism, in whatever form that takes. Hopefully this edit, fit for a princess, helps.

SHOP FANCY FLATS


This article contains commercial, affiliate links.