SHOPPING
Shoe of the month: Bottega Veneta 'Spiral' Snake-effect Sandals
30th April 2020
WORDS BY SANDRA HAGELSTAM | PHOTOGRAPHY BY LASSE LINDQVIST
Although we haven't worn more than socks over the past month, we choose to welcome Spring in the most beautiful sandals of the season.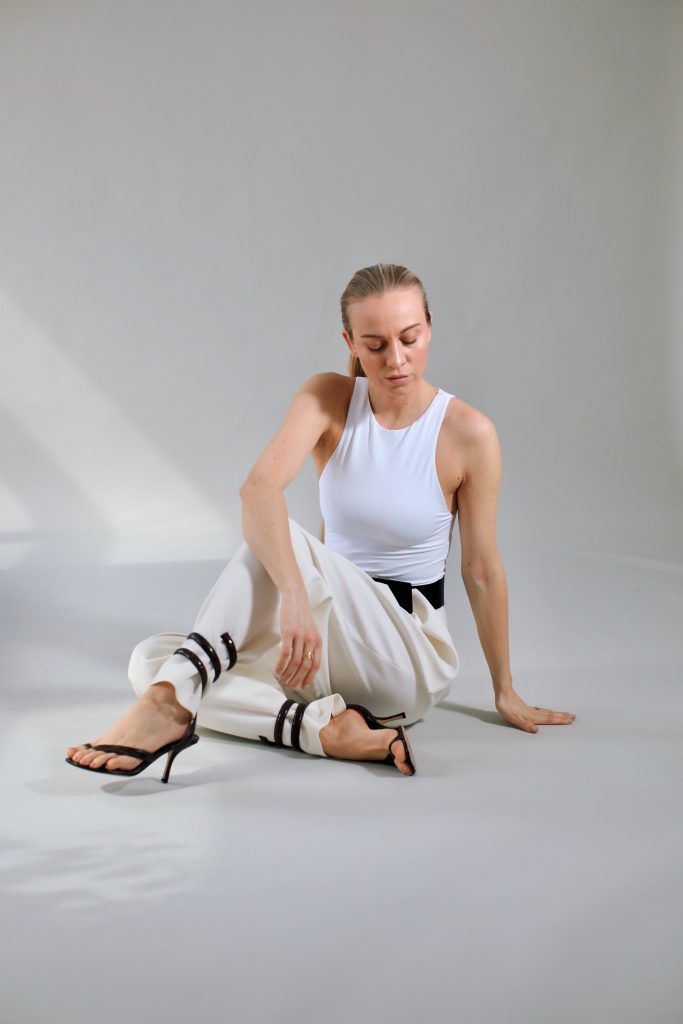 I know what you are thinking…That the real SOTM should be our slippers, that we've spent the last month in. Or the mismatched woollen socks, because the need for any shoes hasn't been that great lately, practically speaking of course. Mentally and materialistically though, it's a whole other story. So we look into the future, after all, we are a community that celebrates the beauty of shoes, so let this guide you on to what kind of shoes you'll be slipping into come brighter days.
Instead of reviewing a brand new pair, we are looking at a pair that has proven to be somewhat the shoe of the season, in everything from our vacation edit, to street-style recaps and our big industry interview. It's no secret that Bottega Veneta's shoes have been ruling our world lately and in-between all the versions of intrecciato leather mules (that we still have the energy for), Daniel Lee gave us these wraparound, coil-like sandals. Unlike the previous mules and square toe sandals, these only came in three colours and two heel heights.


The shoes originally came out for Resort 2020 and instantly became a viral hit for the clever styling trick (see trouser tuck) that ruled the street style scene throughout the early months of the year. Much like the chunky Chelsea boots, the modern take on the gladiator sandals transformed suits, jeans and even the most simple slacks into perfectly styled ensembles that did not differ much from Rosie Huntington-Whiteley's bathroom selfies. Another star was born, the shoes sold out in most stores, Bottega re-introduced a plain version for the next season and that styling trick is on its way to iconic status with a matching bracelet.
Comfort: 2/5
While this is a shoe that I would love to wear with all my summer outfits, the lack of comfort will sadly not allow me to. With that snug toe ring design and no support on the foot, I will probably get most of my wear out of these on Instagram. However, the mid-height heel does provide a little bit of added comfort and the thick wrap stays well on the ankle.
Quality: 4/5
Bottega Veneta did a great job with the snake-like effect throughout the shoe and the wrap can be styled in various ways. However, nothing beats the high-quality of Bottega Veneta's iconic smooth leather.

Purchase price: £870 matchesfashion.com in January.

The shoes are still available on a few sites, listed below. You'll find a slightly updated smooth version, up for pre-order here. We predict this style will stay around for a while, like most of Bottega Veneta's shoes lately have.
Conclusion: This summer shoe has been around since the winter months and it isn't until now living up to its potential as the weather is slowly allowing us to slip into sandals – not to mention the current climate that seems to have us skip an entire season. Bottega Veneta's most recent styles come with cashmere padded soles which will undoubtedly hold more value than these. Although that same styling trick is easily achievable, this is a shoe loved by industry insiders and has yet to see a noteworthy copy-cat rival.

SHOP BOTTEGA VENETA WRAPAROUND SANDALS

This article contains commercial, affiliate links.