Trends
The Biggest Shoe Trends of SS21
1st March 2021
WORDS BY SANDRA HAGELSTAM
From surprisingly comfortable runway slippers to the princess heels trending in your feed, these are the dominating shoe trends of Summer 2021.
Whilst this cold season might feel never-ending, there is always something to look forward too. Take for example the biggest and most exciting shoe trends of the summer season, that have just started hitting stores. Slippers or as we like to call them 'house shoes' have undoubtedly been the dominating shoe trend of the previous months (year) and designers have fully embraced this controversial trend, cue furry sliders and duvet boots. In other words you can now wear your bedroom slippers further than just to take out the trash. For those who long back to high heels and fancier attire – wild fantasy stilettos and chain-embellished shoes are set to be hugely popular, as we eagerly wait for the world to open again.
Valentino SS21 / Prada SS21. Images courtesy of Imaxtree.
Kitten Heel
The understated kitten heel does undoubtedly feel relevant as start practising dressing up again. Prada's futuristic sling-backs and Valentino's return of the iconic rock studs both came in the form of pointy toes and a minimal heel, a cautiously optimistic shoe for the current climate.
SHOP KITTEN HEELS


Chanel SS21. Image courtesy of Imaxtree / Prada loafers.
Leather Loafers
The chunky loafer has taken up a well deserved place in our shoedrobes over the past year and will according to Chanel keep its place. Outside the runways, Prada's logo loafer and other sturdy shoes alike continues to be a social media hit, making it a somewhat perfect spring shoe to go with all those colour coordinated tracksuits we've collected.
SHOP LOAFERS


Hermés SS21. Image courtesy of Imaxtree / Bally SS21. Courtesy image.
Clogs
The comeback of the iconic wooden shoe should not come as a surprise after all the time spent at home, but leave it to Hermés to turn it into a lustworthy designer investment. Stella McCartney and Bally embraced the trend too, this season we'll wear them minimalistic with tonal styling. 
SHOP CLOGS


Victoria Beckham SS21. Courtesy image / Versace SS21. Image courtesy of Imaxtree..
Chunky Chains
Chains on shoes have been around for a few seasons now, but this summer the grew super-sized and chunky. JW Anderson's last years chain slippers continues to be our pick for the best flat take on the trend, but Victoria Beckham and Versace did not hold back on the heel heigh, making the heeled chain pumps a strong favourite for the anticipated June 21st – Englands return to normality.
SHOP HEAVY CHAINS


Louis Vuitton SS21. Image courtesy of Imaxtree / Molly Goddard SS21. Courtesy image
House Shoes
Fancy slippers and comfortable house shoes were heavily featured on the runways this season. 'Fashion Uggs' made a surprising Spring appearance at Louis Vuitton, while London based designer Molly Goddard collaborated with Australian Uggs, creating furry slippers to go with her dreamy dresses. Designers like Manolo Blahnik, Fendi and Celine has embraced comfort too, so wear your bedroom slippers with confidence.
SHOP HOUSE SHOES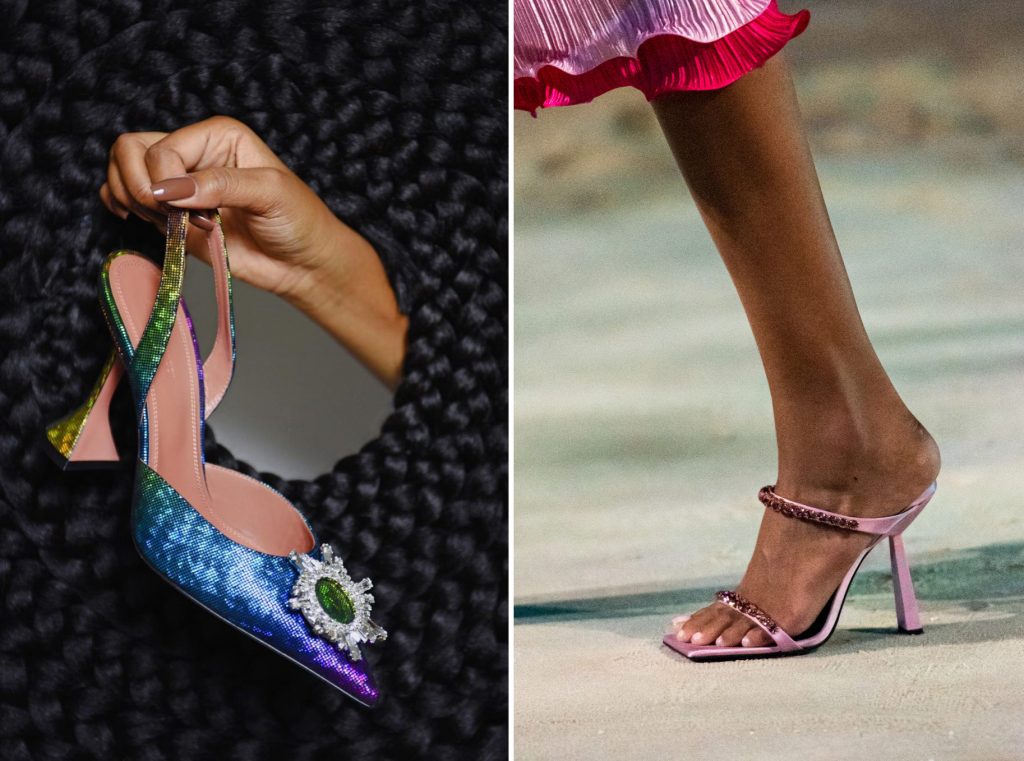 Amina Muaddi 'Begum' pumps. Image courtesy of @aminamuaddiofficial / Versace SS21. Image courtesy of Imaxtree.
Fantasy Heels
While we've seen slippers and comfort-first shoes more than one can possibly have the energy for, the flip side of the coin is the OTT, fabulous fantasy heel. That colourful pair we dream of wearing when the pandemic is finally over, those shoes you've bought in the name of optimism and ironically wore with sweatpants for 3 minutes straight. Amina Muaddi is the epitome of this category and while this weren't necessarily a dominant runway trend, you can't have missed them on your IG feed.
SHOP FANTASY HEELS


Jaqcuemus SS21. Image courtesy of Imaxtree / Stella McCartney SS21. Courtesy image.
Platform Flip Flops
Platform thong sandals and flatforms grew from beach shoe to designer shoe real quick and give a perfect laid back vibe to otherwise fancy attire. The thong sandal were seen at surprisingly many designers summer collections, pick your favourite from Jaquemus, The Attico and Prada who has come out with noteworthy versions, while the Row's famous 'Ginza' sandals have been re-made for another season.
SHOP PLATFORM THONG SANDALS


Dior SS21. Images courtesy of Imaxtree / Bottega Veneta PS21. Courtesy image.
Mesh & Woven materials
So much for fishnet tights, this season we want our shoes in thick mesh and woven materials. Bottega Veneta's pre-spring had plenty of net pumps and braided mules that you are likely to come across in multiple colours this spring. Designers like Dior and Fendi presented their shoes woven with a more artisanal take. While we love the designer take on handmade shoes, check out smaller designer like Brother Vellies and Shekudo, which specialise in artisanal shoes.
SHOP WOVEN SHOES


Khaite SS21. Courtesy image / Celine SS21. Image courtesy of Imaxtree.
Ballet Flats
The effortless ballerina flats are having a moment this coming spring. A shoe so minimalistic, it's often used on the runways to shine attention to the clothing rather than footwear, however this season the stretchy ballerinas made an appearance on big brands shows like Celine and Khaite. Most ballerinas this seasons come fitted with a gathered upper, so choose quality, leather pair.
SHOP BALLET FLATS


Loewe SS21. courtesy image / Louis Vuitton SS21. Image courtesy of Imaxtree.
Retro Sneakers
After years of chunky sneakers, the sporty shoe trend is gravitating towards a more refined mood. Retro shapes from the 80's are making a comeback with sneaker experts like Adidas and Nike, while designers like Loewe are embracing the iconic tennis shoe in a range of colours. Louis Vuitton showed a sleeker, derby-like shape that sits somewhere between a brogue and a sneaker, introducing a brand new shoe style to add to our radar.
SHOP RETRO SPORT SHOES


This article contains commercial, affiliate links.