NEWS
The Shoes From Gucci's Blockbuster Aria Show
17th April 2021
WORDS BY NATALIE YIASSOUMI
Take closer look at the polarising Balenciaga x Gucci shoes that will become next season's sell-outs.
Logo mania and glitter boots, Gucci's spectacle 'Aria' was the show of the year. Images courtesy of Gucci.
Even the most dedicated of fashion professionals, has yawned and pressed fast-forward every time a new digital fashion show made its debut in the last 12 months. But that was until Gucci released Aria, its new fall collection and a celebration of the brand's 100 years in business.
It mixed in bling, flashing lights, every rap song ever made with the word 'Gucci' in it, an homage to the brand's equestrian heritage and to the Tom Ford glory days of the '90s — and most notably a new and very unexpected collaboration with Balenciaga.
No one was pressing fast forward this time around, instead they were reposting, sending myriads of hearts and thumbs up emojis and having heated conversations in comments sections all over Instagram. Was this the "collaboration of the century" observers asked?
It might be, but Gucci's creative director Alessandro Michele prefers to call it "hacking," because he didn't actively work with Balenciaga's Demna Gvasalia to create the collection. Instead he just got his permission to "steal" Balenciaga signatures and make them his own.
Part of this friendly theft were the Balenciaga sock boots, which were redone in the Gucci monogram logo. Some featured the classic soft brown version of the monogram in a stretchy fabric, while others reimagined the monogram in crystals — talk about dress-up and the roaring '20s making a comeback.
And just when you thought it couldn't get any louder than that, another iteration of the sock boots came down the runway featuring the graphic Balenciaga logo splashed all over the boots and layered with a classic Gucci floral print.
Balenciaga's Floral 'Knife' boots and Gucci's signature riding boots got a glamorous update. Images courtesy of Gucci.
It's next level logomania, the kind of shoes that will spark love or hate but certainly not indifference. And while it remains to be seen if this will be the collaboration of the century, these will certainly be remembered as some of the most divisive shoes of the century: Some are rolling their eyes and recognizing that there isn't much more than hype and a smart marketing exercise behind all this, especially when you remove the excitement of the film, the celebrity cameos and the catchy music in the background. Yet for others this kind of hype, the simple idea of putting one brand logo next to the other and adding a bit of bling, is enough to bring back the joy of dress-up and fashion — meaning Michele and Gucci are doing something right.
"I tried to do something a little different and unexpected (to) celebrate fashion and this strange but fascinating work," said Michele.
The excitement didn't stop at those loud "Gucciaga" pieces: Michele also paid tribute to the past and reintroduced an array of classic horsebit loafers and equestrian knee boots in the range that had a more understated, chic flair. He also looked at the more recent past and in particular Tom Ford's Gucci era, revisiting the '90s sex appeal Ford made famous, with a series of slinky, kitten-heel mules featuring sheer mesh fabrics that reveal the foot underneath and crystal logo embellishments. It was the kind of shoes that you can easily imagine Kate Moss wearing back in the day, paired with a barely there slip dress.
"I'm still so in love with the '90s. Tom is a genius and I've been thinking about his work a lot in this show," said Michele. "I've always loved getting things from everywhere and from every historical moment in order to give them new life. I'm obsessed with bringing the past back and transforming it into a living and vibrant present."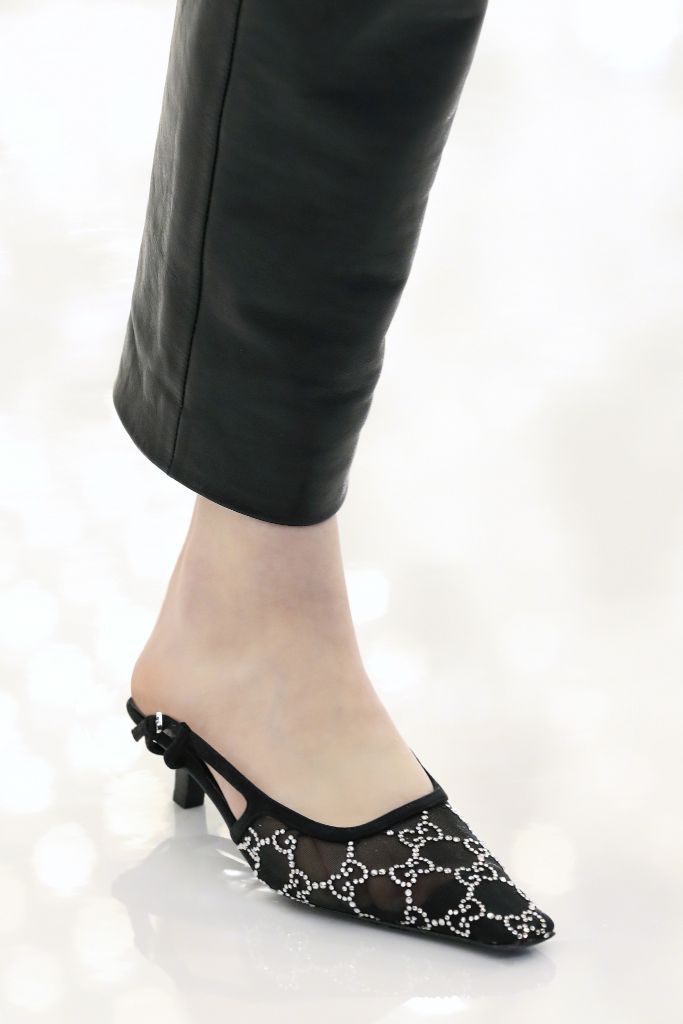 Gucci's collection also included logo mesh pumps and two-tone loafers . Images courtesy of Gucci.
This article contains commercial, affiliate links.